Partnerships for Opening Doors – Ending Homelessness through Meaningful and Sustainable Employment
"One of the best ways to eliminate homelessness is to get people jobs," said Labor Secretary and Chair of the U.S. Interagency Council on Homelessness (USICH) Thomas Perez at the Partnerships for Opening Doors summit, which took place at the Labor Department's headquarters in Washington, DC, on October 16, 2014.
Co-hosted by the Departments of Labor (DOL) and Housing and Urban Development (HUD), USICH and the Butler Family Fund, the day-long national summit focused on integrating employment and housing strategies to prevent and end homelessness. Leaders from 11 communities representing Workforce Investment Boards, Continuums of Care, state Workforce Development Councils, advocacy and community-based and national nonprofit organizations engaged in intensive discussions to identify key actions for Federal partners to take to improve access to meaningful and sustainable employment, skills training, and supportive training for people experiencing or at-risk of homelessness.
Laura Zeilinger, Executive Director of USICH, welcomed participants and opened the Summit, highlighting what would be the central theme throughout the day: the connection between employment and stable housing. Roy Austin, Deputy Assistant to the President for Urban Affairs, Justice and Opportunity at the Domestic Policy Council at the White House, underscored President Obama's commitment to investing in America's workforce and helping people – including individuals and families experiencing homelessness – enter jobs with career ladders. Secretary Perez spoke of the importance of connecting people experiencing homelessness to employment and his personal passion for the issue, affirming for many that the Administration is committed to the goals of Opening Doors and recognizes the central role that meaningful employment plays in preventing and ending homelessness. DOL Assistant Deputy Secretary Gerri Fiala highlighted key opportunities under the Workforce Innovation and Opportunities Act (WIOA) of 2014, and participants were particularly excited to hear about how individuals, including youth, experiencing homelessness are a targeted subpopulation served by WIOA .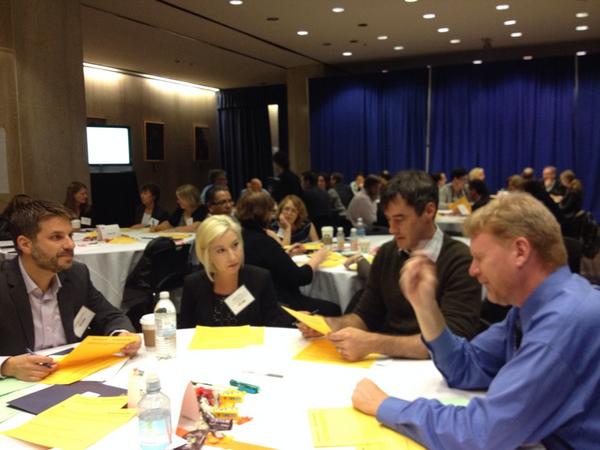 Each community delivered a fast-paced and high-impact presentation on local practices, challenges, and outcomes for employing people experiencing homelessness. Presenters from Seattle, for example, shared their Employment Navigator model, which connects employment center customers to needed housing assistance. In Salt Lake County, housing sites have partnered with state and local government workforce departments and employers to provide solutions and keep people housed while working on employment strategies. Western Massachusetts has integrated nonprofit and public programs in employment, housing, child care, and education sectors, developed individualized employment plans for each job seeker experiencing homelessness, and used flexible funds to resolve specific employment barriers.
The highly interactive Summit engaged participants in discussions to develop recommendations to improve policies and practices on the Federal level to break down silos and integrate workforce systems with homeless assistance systems, promote effective program practices, and harness mainstream Federal resources. Volunteers presented "big ideas" to Perez and HUD Secretary Julián Castro, who responded to participants with potential actions for follow up: a pilot program to integrate rapid re-housing with employment services, partnerships with governors to strategically use Federal funding to create employment opportunities for people experiencing homelessness, and a re-evaluation of incentives for employers to hire employees with histories of homelessness. The Summit laid the foundation for a network of committed partners at the Federal, State and local level.
USICH, with its partners, will lead the efforts to coordinate activities in the near term, as well as the longer-term efforts that will sustain the partnership between homeless assistance and employment programs going forward. With the right collaborative leadership across all levels of government and sectors, an aligned sense of purpose, and knowledge of effective strategies, we have the capacity to accelerate our progress to end and prevent homelessness.